Meet Dixon: Lucia, Women's Support Worker
Lucia is one of Dixon's Women's Support Workers, and today, we're excited to share her story.
By connecting with the resilient women at Dixon, Lucia was inspired to pursue a career fighting for employment policy reform.
Working at Dixon
Lucia began her time at Dixon working as a co-op student in the administration office. During that time, she learned the ins and outs of Dixon's operations. She later moved into a more hands-on role as Program Coordinator at Wenda's Place. When she went back to school, Lucia stayed at Dixon as a Women's Support Worker.
One of Lucia's favourite parts of her job has been helping women complete their applications to become Canadian citizens and witnessing their joy as they successfully overcome the hurdles entrenched in this process.
Lucia credits her education in political science as an asset to her work at Dixon. She explained that her knowledge of government and the intricacies of different policies like employment insurance allowed her to better assist women as they navigated these services.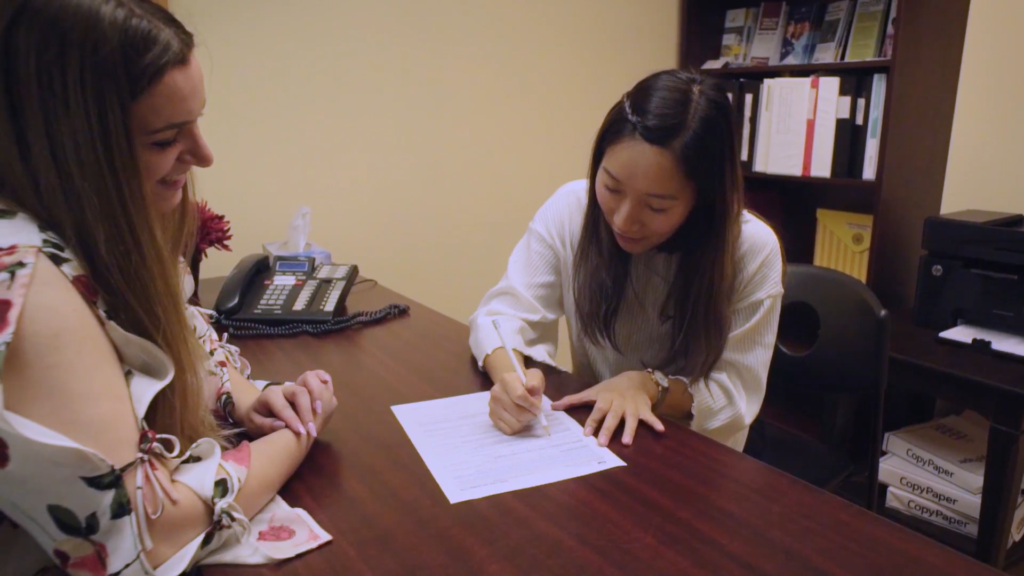 Dismantling barriers
Troubled by the barriers she saw women face, Lucia pursued a Master of Public Policy at Simon Fraser University. She focused her thesis on improving employment policy to better serve survivors of domestic violence in B.C.
When she entered graduate school, Lucia wanted to use her education to amplify the voices of domestic violence survivors. She often forged these connections with women over a cup of tea in the afternoon or making pasta together. She credits the time she spent just getting to know the women of Dixon as an integral part of her professional journey.
Lucia now works in government, in addition to her position as a casual Women's Support Worker at Dixon. She continues to fight for policy that dismantles structural barriers to a world free of violence against women. At the same time, she provides vital front-line support to women fleeing violence.
When asked about what she wished people knew about domestic violence in our community, Lucia said: "There is no one demographic of domestic violence survivor. I hope that survivors recognize their experience is common. And I hope that others recognize their neighbour, friend, sister, or anyone else in their social network could be a survivor of violence against women."