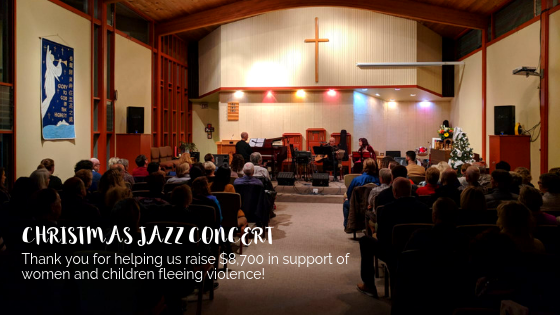 ---
Our 7th annual Christmas Jazz Concert, held on Sunday, December 2, 2018, was a sold out success!
Thank you so much to all of our friends and supporters who came out to the event to support Dixon House. It was so wonderful to celebrate the season with everyone: we are so grateful for everything that you do, during the holiday season and beyond, to help us see a world where all women and children are free from violence.
All proceeds from the event go toward Dixon House, our 10-bed emergency home, where women and children come immediately after fleeing violence.
At the concert, Dixon's incredible supporters raised $8,700 for Dixon House! Buy buying a ticket, bidding on a silent auction item, or making a donation, the folks who attended the event are helping us provide our comprehensive supports to the women and children staying at the transition house. Thanks to them, women and children are able to access food, clothing, personal and household supplies, workshops, counselling, and so on, all at no cost.