Dixon Transition Society is seeking sponsors for its 7th annual Christmas Jazz Concert! This always festive and joyous evening includes socializing, great jazz music, and a silent auction. The concert will feature local artists Miles Black, Glenda Rae, and Brett Wade.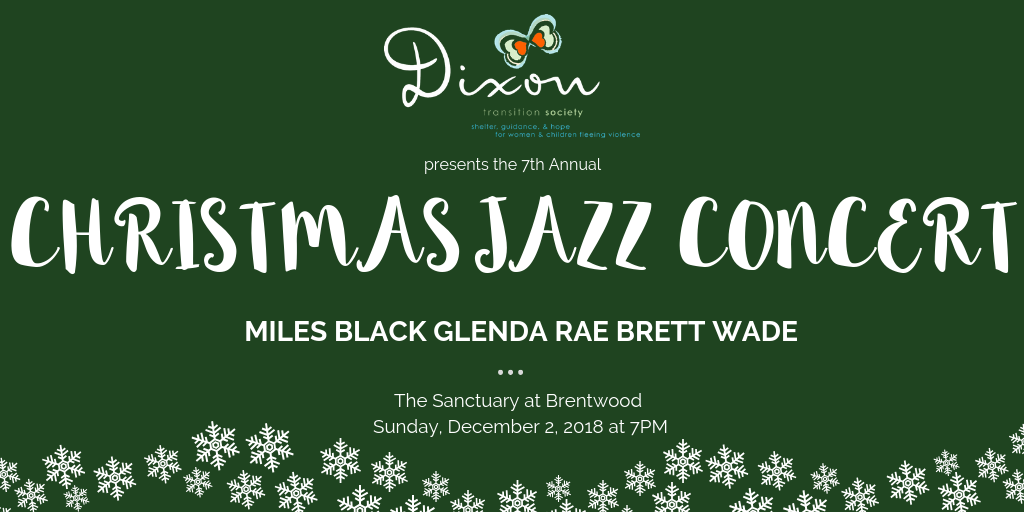 All proceeds raised at the concert will go to Dixon House, which is our 10-bed emergency home where women and children come immediately after escaping abuse. There is a staff member at the house 24 hours a day, 7 days a week. While there, women have access to food, clothing, basic personal and household supplies, workshops, counselling support and so on, all at no cost to the client.
Dixon will recognize all sponsors on our website and social media, on promotional material and at the event itself. Above all, sponsors play a key role in providing support for moms and children fleeing violence this holiday season.
Find out more about sponsoring Dixon's 7th Annual Christmas Jazz Concert. Dixon is also looking for silent auction items! If you or your business would like to donate an item, please get in touch.
If you are interested in sponsoring our Christmas Jazz Concert or providing a silent auction item, please contact our Communications & Development Coordinator. Thank you so much for thinking of Dixon this holiday season!