Sponsor a Dixon family this Christmas
Dixon Transition Society has an incredible tradition of holiday giving, thanks in large part to the community partners who agree to sponsor a Dixon family (or two, or three…) every year.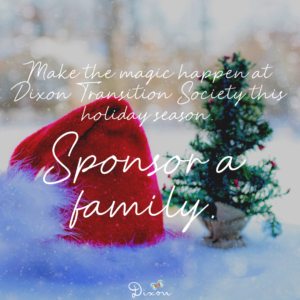 Do you remember being a kid and waking up Christmas morning before even the crack of dawn, running into the living room to see what Santa had left? The tree is lit, wrapping paper crinkles under little scurrying feet running to grab the next present. It's magic.
At Dixon, we make sure our Christmas isn't any different. Our families have experienced a whole array of circumstances in a year, so why not give them at least one day to celebrate provision, love and abundance?
Our goal is to provide families with the magic of a traditional "Canadian" Christmas morning, complete fun, pretty packages under a tree.
That's where you come in!
As a Christmas sponsor, you agree to take on a wish list(s) from a Dixon family (or families!) and play "Santa" for them this holiday season. In late October, we send you the wish lists, and you spend November shopping. We will arrange a time in the first two weeks of December for you to drop off the gifts at our head office. Then, on December 25th, Dixon families experience the magic of a Christmas morning, thanks to you.
Read more about the incredible impact that you, as a holiday sponsor, can have on the women and children at Dixon.
If you would like to get involved, please fill out the form below. For more information, contact our Communications & Development Coordinator.
Sponsorship Interest Form