Dixon Transition Society has an incredible tradition of holiday giving, thanks in large part to the community partners who agree to sponsor a Dixon family (or two, or three…) every year.
We don't exaggerate when we say that most of our clients come to Dixon with the clothes on their back. Because of this, the women and children rely almost entirely on donations during their time at Dixon. Some clients are working and earning modest incomes, but Christmas is an expensive time of year for many families, including those we serve. Of course, the moms at Dixon still want to provide love and joy for their children during the holiday season. They come from a variety of cultures and ethnic background. Some of our families celebrate Christmas differently, and some don't celebrate Christmas at all.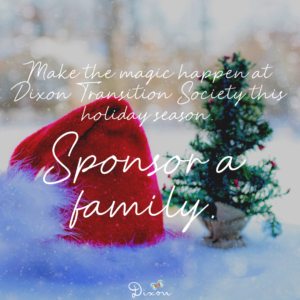 Our goal is to provide families with the magic of a traditional "Canadian" Christmas morning, complete fun, pretty packages under a tree.
That's where you come in!
Christmas sponsors agree to take on a wish list(s) from a Dixon family (or families!) and play "Santa" for them this holiday season. In late October, we send you the wish lists, and they spend November shopping. By December, you drop off the gifts at Dixon's head office. Then, on December 25th, Dixon families experience the magic of a Christmas morning, thanks to you.
Read more about the incredible impact that you, as a holiday sponsor, can have on the women and children at Dixon.
If you would like to get involved, please fill out the form below. For more information, contact our Communications & Development Coordinator.
Sponsorship Interest Form