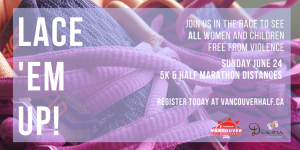 Do you enjoy walks along Vancouver's glorious English Bay? Or perhaps you're a seasoned athlete, looking to best your last half-marathon time. Maybe you're simply excited about seeing women in our community empowered and want to invite others to get inspired. Regardless of your motive, we have a spot for you on our team.
This year, all the funds raised through Team Dixon (yes, 100% of what we raise goes straight to our programs!) will go to our Outreach programs.
What are Dixon's Outreach programs? 
Any client that is preparing to leave Dixon or has left Dixon in the last couple of years, fits under this "outreach client" canopy, meaning they still have access to these services and we're happy to be of help as they continue to work to achieve goals and acclimate post-trauma and post-living at Dixon. Through our housing and employment outreach programs, women gain individual mentorship and support when looking for long term housing and employment; access to group workshops offered by community professionals; encouragement and resources in areas like further education, resume building, and English as a second language; and before and during women's moves, we work to ensure all participants have essential material items they need to start their new life free from violence.
Last year we raised over $15,000 for Outreach and look at what we have been able to accomplish!
About the Event
The Vancouver Half Marathon and 5K presented by Canada Running Series is a highlight in the city every year. Scotiabank is an amazing community partner that is excited about seeing charities thrive and collective impact happen, so each year they sponsor the event so that charities can recruit teams and carry out peer-to-peer fundraising campaigns. The best part? Scotiabank covers all of the processing and administrative fees for funds raised so that everything you raise or donate goes directly to the need!
2018 Race Date: June 24, 2018
Location: Stanley Park (Half-Marathon starts at UBC, 5K starts and finishes in Stanley Park)
Dixon's Fundraising Goal: $20,000 to support women and children as they rebuild their lives free from violence
Sign me up!
When you register for the race through Canada Running Series, you will get to the Scotiabank Charity Challenge section where you will be given the option to choose a charity for whom you would like to raise funds (HINT: pick Dixon!).  In order to get a registration discount and also to indicate you are running with Team Dixon, you will need to use the following charity pin codes, when prompted. It is vitally important to not forget this step. The charity code cannot be applied retroactively. 
5K runners and walkers: 18DTS5K
Half Marathon runners: 18DTS21K
When you've finished the entire race registration and fundraising registration process, you will have your very own fundraising page that you may then share with your network and begin to rally support. All funds raised through your site (as well as any personal cash and cheques that you raise), go directly to Dixon. Tax receipts will be issued accordingly.
Need help? Check out our Scotiabank Charity Challenge Registration Instructions
Further Questions? Give us a call at 604.433.4191 or email us. We'd love to chat more!