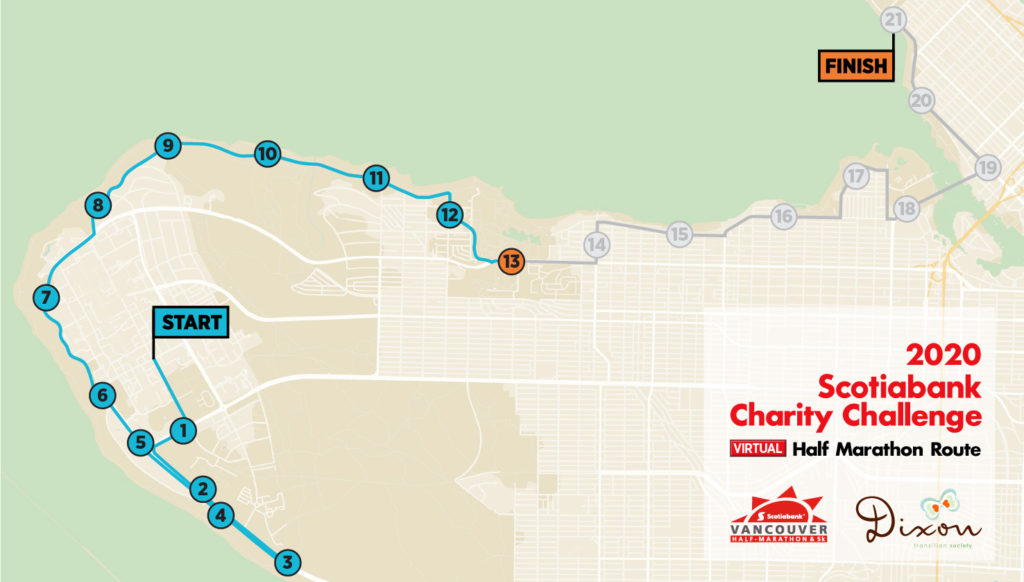 We are in week 13 out of 21 in the Scotiabank Charity Challenge!
Each week of the fundraiser will take us one more "kilometre" closer to the finish line of the Scotiabank virtual half marathon, which is 21.1K. Join us as we go the #DistanceforDixon!
______________________________________________________________________________
For six years, Dixon Transition Society has been a participating charity in the Scotiabank Charity Challenge, a unique fundraising program that is part of the Scotiabank Vancouver Half Marathon and 5K event. Year after year, the Charity Challenge combines the spirit of running with community and generosity. Visit our Charity Challenge page here.
This year, the Scotiabank Vancouver Half Marathon and 5K will be virtual due to concerns around COVID-19. However, fundraising remains a priority for many of the participating charities, including Dixon Society.
Funding for our child support program has been eliminated and we must rely on donor generosity to continue running the program for children in need. For these reasons, we haven't changed our goal to raise $25,000 during the Scotiabank Charity Challenge.
With the generous support of our community, we know that reaching our goal is possible.
We invite you to go the #DistanceForDixon this year! There are a number of ways to get involved:
Join Team Dixon – walk, jog or run a distance of your choice (5K, 10K, 21.1K) and fundraise on behalf of Dixon Society. While we may not be able to run together for now, you can still put together a virtual team with your running group and/or colleagues – it's a great way to stay connected and committed to training for your goal, whatever that may be.
Donate to Team Dixon's Charity Challenge page – every single dollar counts and will help the women and children in our care.
Donate in-kind prizes for our top fundraisers. Get in touch if you'd like to provide support this way!
Whether you are a seasoned runner or are working towards your first 5K, we welcome you to join Team Dixon. If you prefer to cheer on our runners, walkers and joggers as they train for their virtual race, you can make a donation and know that you are helping the kids at Dixon who need support, acknowledgement and care from their community.
If you have any questions about the Scotiabank Charity Challenge, Dixon Society's child support program, or any other programs, feel free to get in touch. We'd love to hear from you! Join the conversation on Twitter, Instagram and Facebook!