GO THE DISTANCE FOR DIXON!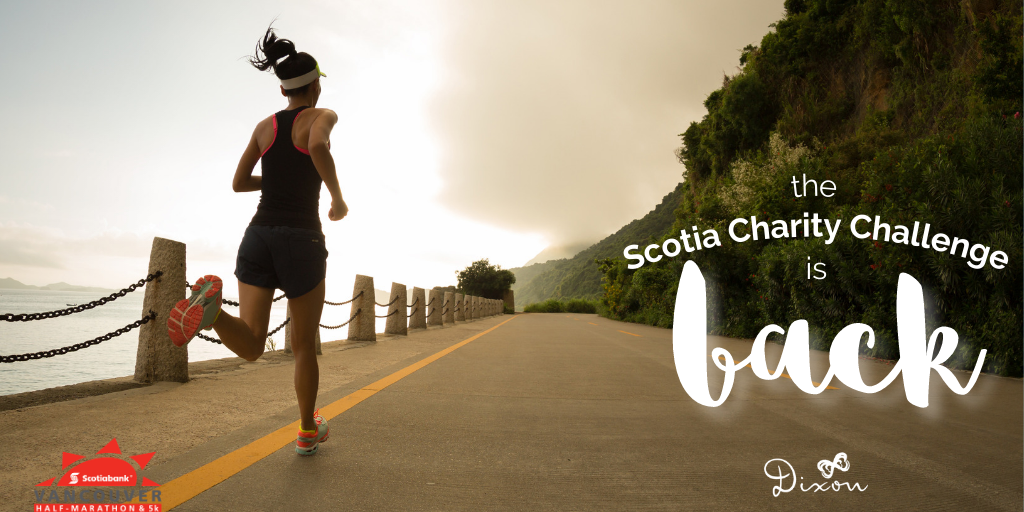 Are you looking for a way to get involved with Dixon?
Do you want to give back to the community in these difficult and uncertain times?
Are you committed to helping women and children live thriving lives free from violence?
Then join us for the 2021 Scotiabank Charity Challenge!
This year, all funds raised for Dixon Transition Society through the Scotiabank Charity Challenge (yes, 100% of what we raise goes straight to our programs!) will go to our Child Support program.
Our goal is to raise $25,000 through this Charity Challenge so we can keep our incredibly beneficial Child Support program up and running at Dixon!
Why Child Support?
At Dixon, we highly value children, and design programs and services to allow them to just be kids during a stressful time in their young lives.
Many of the children who knock on our doors (204 children in our last Fiscal Year) have often witnessed violence, if not directly experienced it. We know that children who grow up to respect women and learn how to express emotions in a healthy way are an indicator of the cycle of violence being broken. We want the children in our care to grow up safe and happy, with every opportunity to succeed and go the distance.
Because of this, we design programs with their mental and emotional well-being in mind. Dedicated Child Support Workers at Dixon Transition House and Wenda's Place model healthy behaviour for the children. Our Child Support program also offers fun and educational group activities, like virtual arts and crafts sessions and workshops.
Unfortunately, as of 2020, the funding for this vital program has been entirely eliminated. However, your generous donations through last year's Scotiabank Charity Challenge enabled us to keep our Child Support program up and running! This year again, we are looking to our compassionate donors and supporters to help us raise funds for this essential service.
About the Event
The Scotiabank Vancouver 5K and Half-Marathon presented by Canada Running Series is a highlight in the city every year. Scotiabank is an amazing community partner that is excited about seeing charities thrive and collective impact happen, so each year they sponsor the event so that charities can recruit teams and carry out peer-to-peer fundraising campaigns. The best part? Scotiabank covers all of the processing and administrative fees for funds raised so that everything you raise or donate goes directly to the need!
2021 Virtual Race Dates: June 2nd – July 5th
Location: Wherever you'd like!
Sign me up!
When you register for the race through Canada Running Series, you will get to the Scotiabank Charity Challenge section where you will be given the option to choose a charity for whom you would like to raise funds (HINT: make sure you pick Dixon!)
When you register at this link, $5 of your registration fee goes directly to our programs.
When you've finished the entire race registration process, you will have your very own fundraising page that you may then share with your network and begin to rally support. All funds raised through your site (as well as any personal cash and cheques that you raise), go directly to Dixon. Tax receipts will be issued accordingly.
Questions? Give us a call at 604-433-4191 or email us. We'd love to chat more!